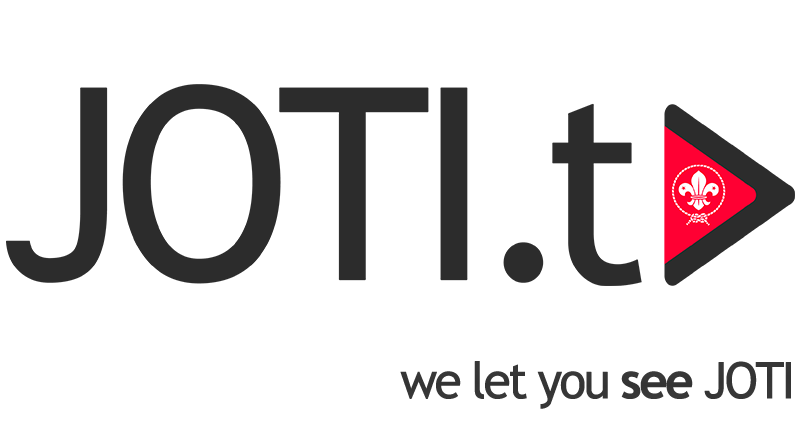 Why JOTI.tv?
JOTI.tv, we let you see JOTI. That is our main goal.
In the two days of JOTA-JOTI you will chat on IRC, speak trough radio, and maybe even video-call with other scouts. But the difficult part is that you can't get a good overview of participating groups. This is where we come in. We gather all the webcams of scout groups all over the world and build them together in one big mozaiek. This will give you a look inside JOTA-JOTI. Do you want to be on JOTI.tv? We explain how you can get your group online on our Help pages
Trusted Partner
Since 2016 JOTI.tv became trusted partner of JOTA-JOTI. The World JOTA-JOTI Team grants JOTA-JOTI Trusted Partner status to a few organisations that play a significant part in supporting JOTA-JOTI. You can reccognice a JOTA-JOTI trusted partner with this logo: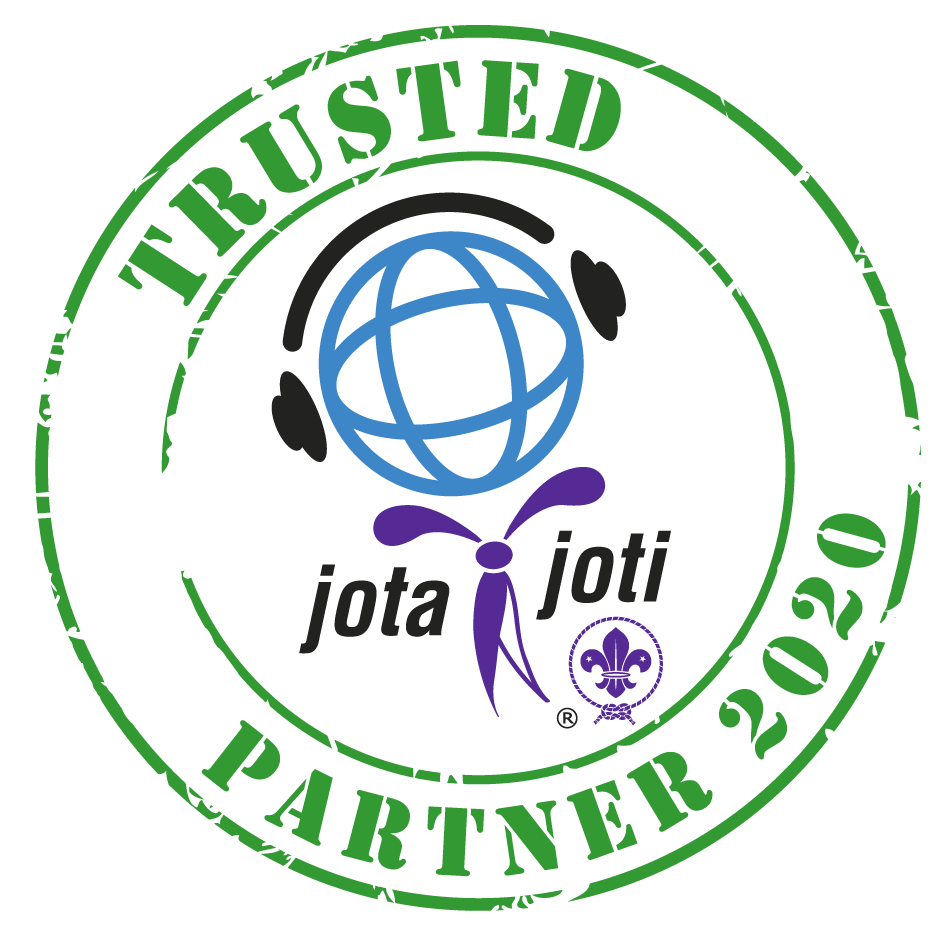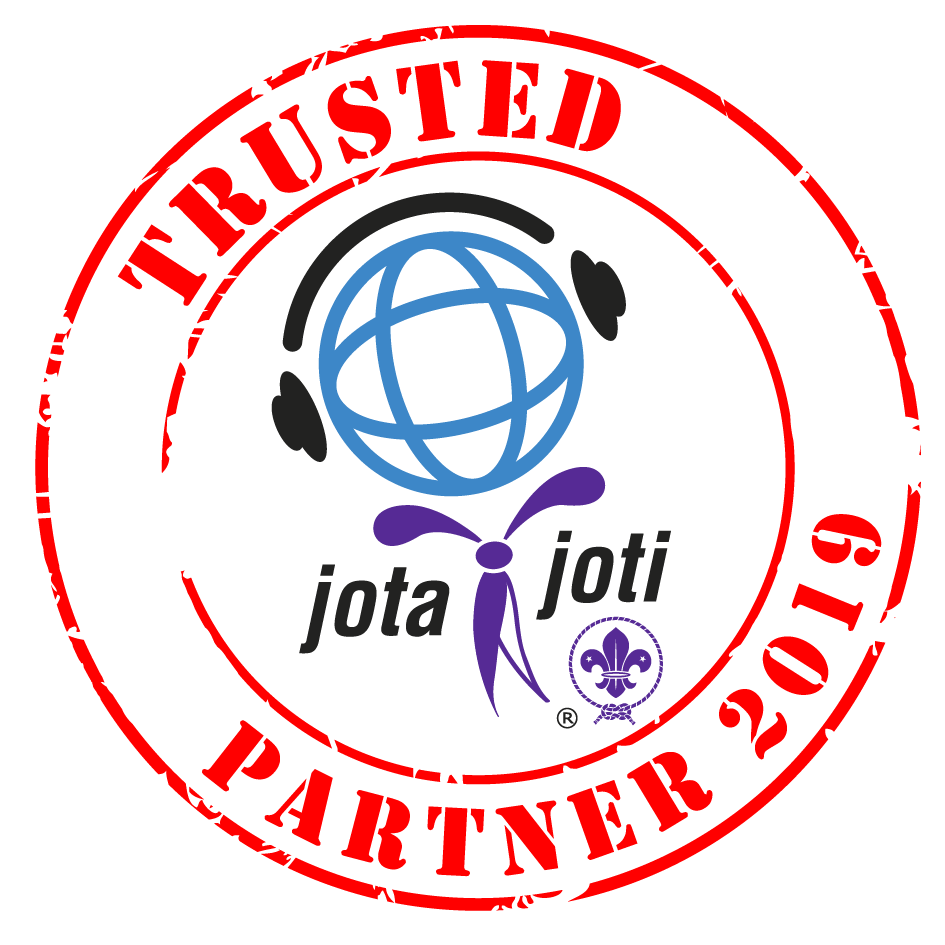 For more information about JOTA-JOTI trusted partners visit jotajoti.info
How did it start?
The idea that became joti.TV all starts with last year. A boyscout group from the Netherlands started last year a "webcam portal". This portal was a overview of webcam's located at JOTA-JOTI stations in the Netherlands. Why? Because it was very hard to locate JOTA-JOTI stations. And off-course, you want to peek inside! So you jump from site to site hoping there was a webcam link anywhere. Than we thought, its must be made easier. We began to locate and contact as much JOTA-JOTI stations as we could. Finding there webcam and hooking there picture in our mosaic. After that, we spread the word and it became a bigger success than we thought.
Now lets share this with the world!
Ten years of JOTI.tv (2009-2019)
JOTI.tv version 1
When JOTI.tv started in 2009 it ran under the domain name of the local Scout club Scouting Brouwhuis in the Netherlands. Only two years later in 2011 the JOTI.tv domain was registered and the first version of Digital Campfire was launched. The design was very simplistic and completely reliant on the Scout group to setup an working webcam and internet connection.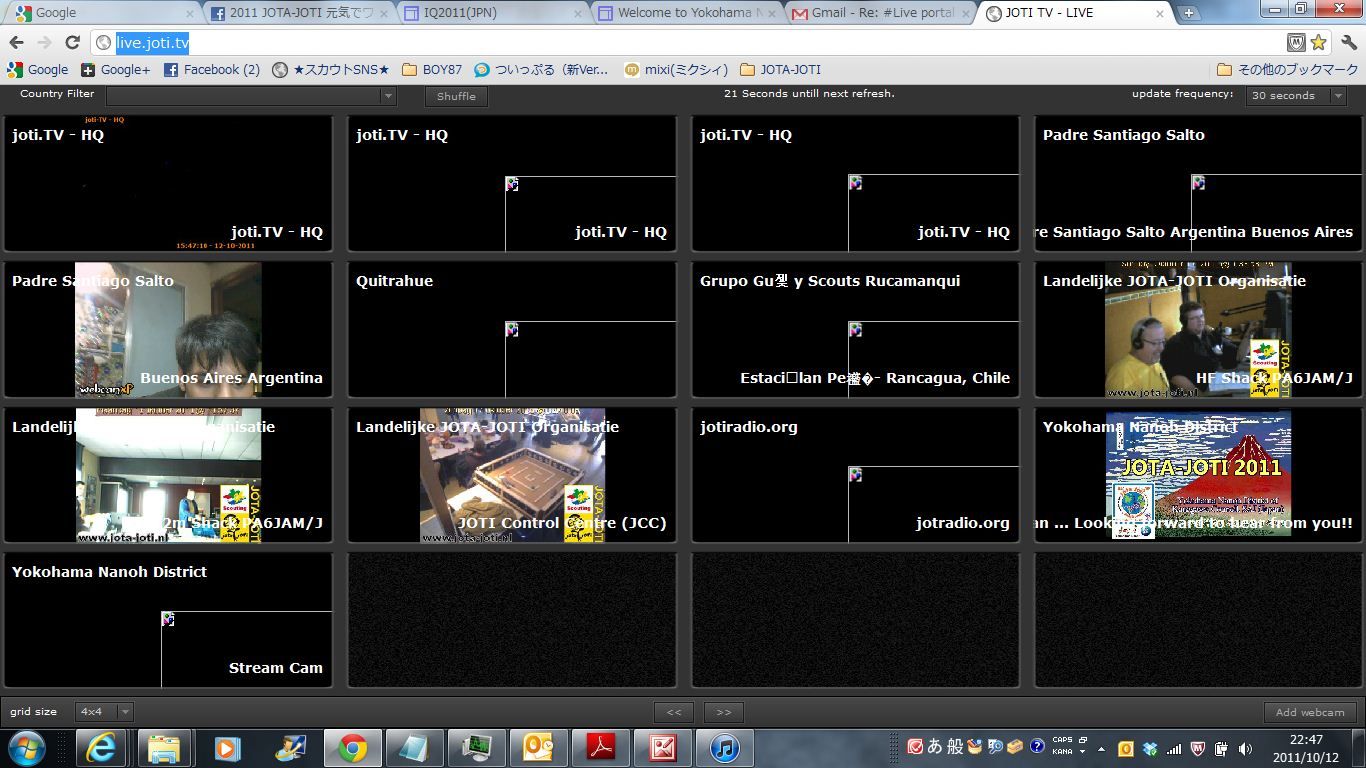 In the past, before WebRTC and HTML5 webcams could not be used in web browsers. Instead Scout clubs had to setup an IP-Camera or USB web cam and publish the video or still image through e.g. FTP. These type of technical setups were only accessible to technical IT people. There have been a few Adobe Flash libraries in the past that could pick-up the image from the webcam use it in the web browser. JOTI.tv has picked-up on this trend and started to make use of these new features to give every Scout without an IT background the ability to publish the image of its webcam on JOTI.tv.
Today, Digital Campfire contains more than 3000 images of Scouts over more than 50 countries. A true digital gathering of Scouts!
Digital Campfire kept improving and resulted in the most successful rich content platform for JOTA-JOTI.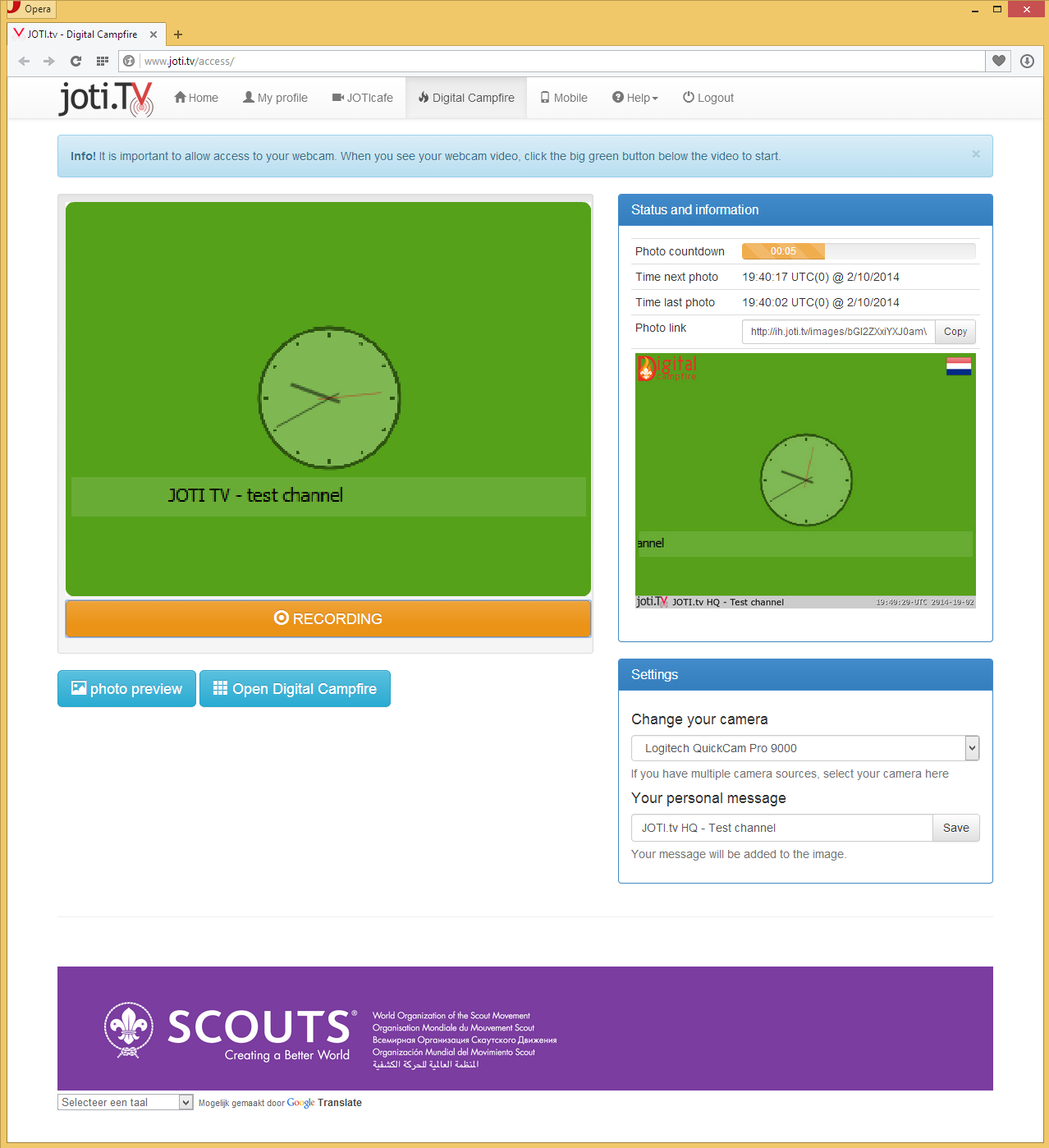 Let's add live video chats to JOTI.tv!
In 2014 JOTI.tv launched the first, nameless video chat platform. In this first platform a Scout was able to create a video chat room and invite other Scouts to join its video chat session. JOTI.tv was the first platform in JOTA-JOTI to offer a centralized video chat.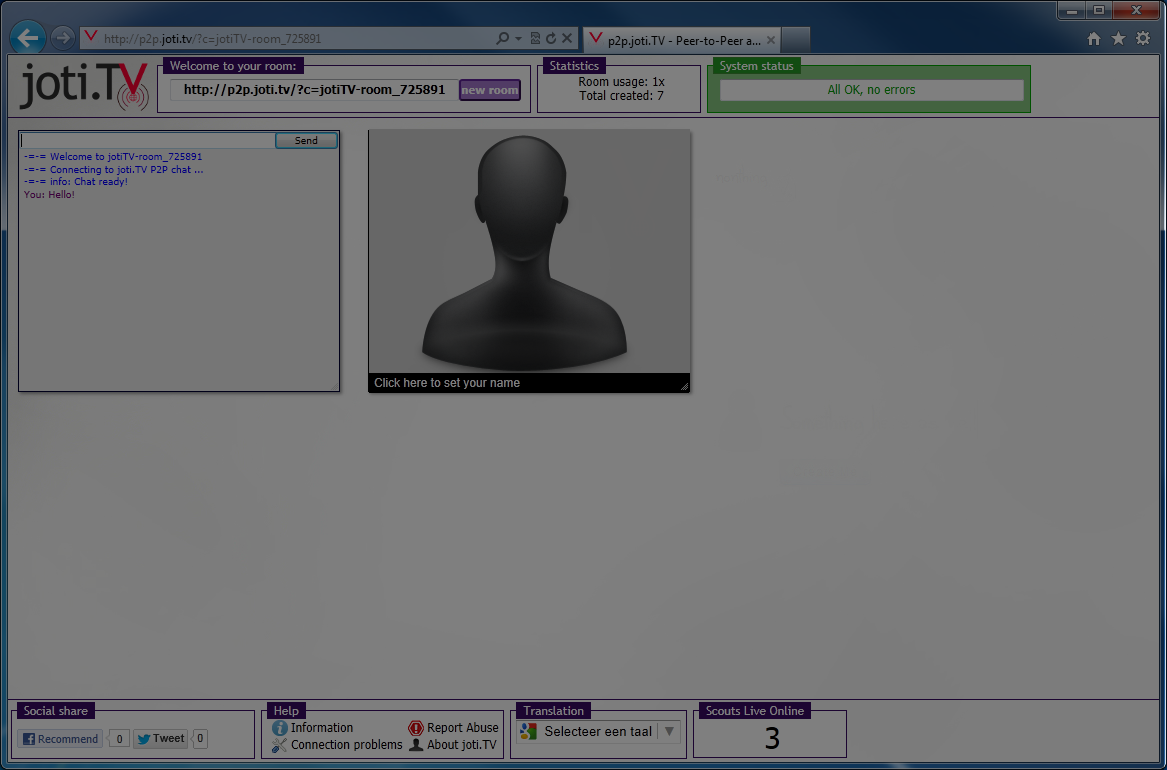 The JOTI.tv video chat platform exploded! In 2015 JOTIcafe was born and since has seen many changes to improve the video chatting capabilities. For this, JOTI.tv uses the latest Internet and web browser technologies. JOTIcafe evolved into a high quality video chat room where Scout can video call each other and meet Scouts across the globe.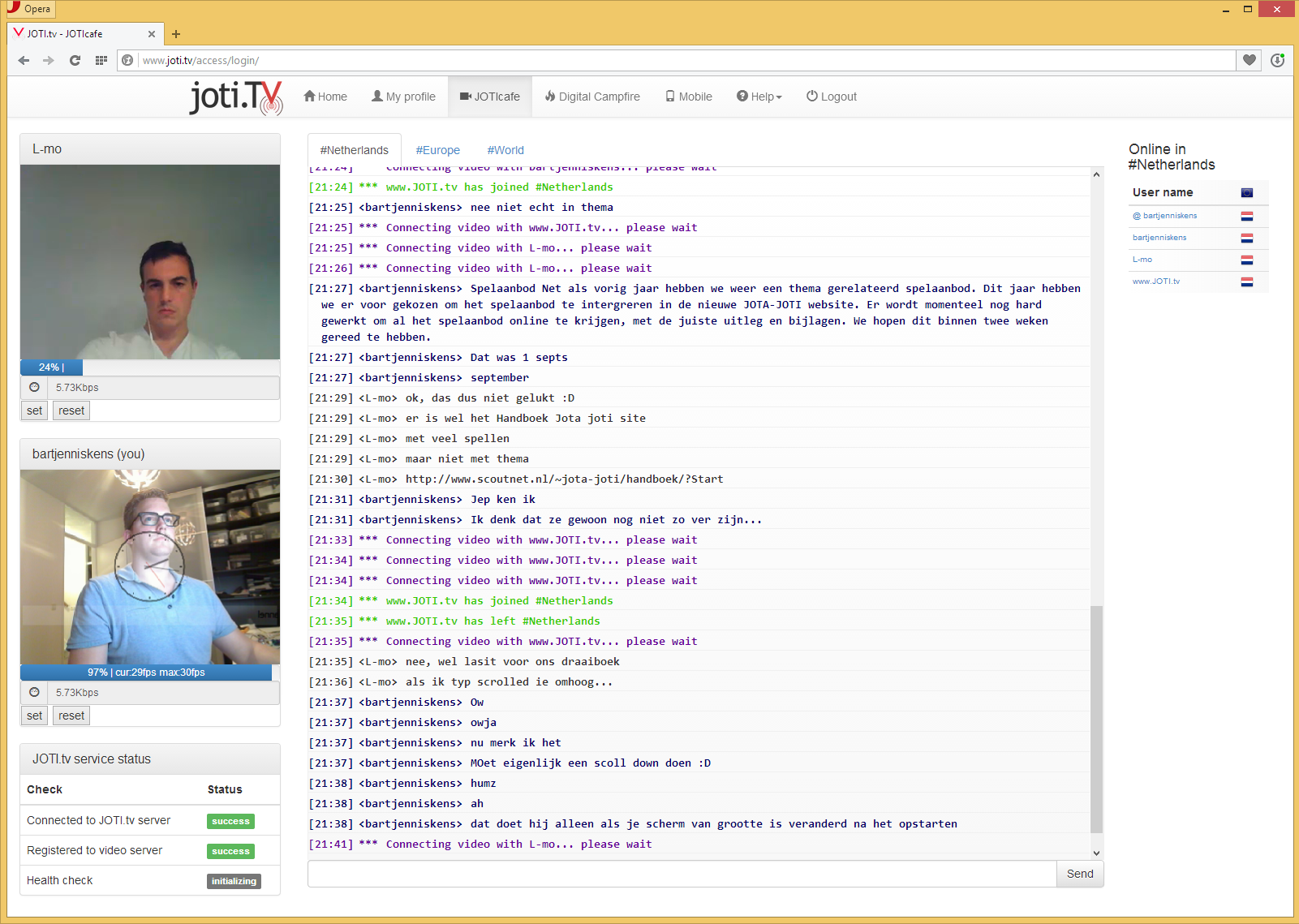 The Boomerang!
For the JOTI.tv 10-year celebration we launched the totally new Digital Campfire which now makes amazing boomerangs! Boomerangs are animated GIFs, a sort of videos which are played in an endless loop.
Nothing without our partners and sponsors
We are very lucky to have a few long-time partners and sponsors on our side who make JOTI.tv a success. Without these people and organisation, JOTI.tv would not exists.
At first I would like to thank the World Organisation of Scouts Movement, the World JOTA-JOTI Team has always believed in the power of JOTI.tv. Thanks to the Dutch JOTA-JOTI coordinator who was our first official contact.
Secondly two longtime sponsors supporting JOTI.tv are Xirsys and Transip. Without these partners JOTI.tv would not have the power and typicality to operate. Xirsys is the Global TURN server infrastructure for powering WebRTC applications and services. Transip is the most reliant data center hosting for the JOTI.tv servers.
What is JOTA or JOTI?
Simple: JOTA stands for, Jamboree on the Air and JOTI stands for, Jamboree on the Internet.
When Scouts want to meet young people from another country, they usually think of attending a World Jamboree. But few people realize that each year more than 400,000 Scouts and Guides "get together" over the airwaves for the annual Jamboree-on-the-Air (JOTA). Modern technology offers Scouts the exciting opportunity to make friends in other countries without leaving home. JOTA is an annual event in which Boy and Girl Scouts and Guides from all over the world speak to each other by means of Amateur (ham) Radio. Scouting experiences are exchanged and ideas are shared via radio waves. Since 1958 when the first Jamboree-on-the-Air was held, millions of Scouts have met each other through this event. Many contacts made during JOTA have resulted in pen pals and links between Scout troops that have lasted many years. With no restrictions on age or on the number of participants, and at little or no expense, JOTA allows Scouts to contact each other by ham radio. The radio stations are operated by licensed amateur radio operators. Many Scouts and leaders hold licenses and have their own stations, but the majority participate in JOTA through stations operated by local radio clubs and individual radio amateurs. Some operators use television or computer-linked communications.
(Source: www.arrl.org)
Policies